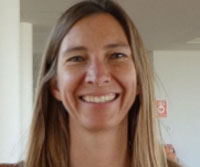 Tiffany G. Troxler, Ph.D., PI
Director, FIU Sea Level Solutions Center
troxlert@fiu.edu
CV
Tiffany Troxler is a Research Scientist and Associate Professor at the Southeast Environmental Research Center and the Department of Biological Sciences at Florida International University. Her research focuses on wetland ecosystems ecology, and informs management and restoration of coastal and freshwater wetland ecosystems. She is also the project collaborator and working group co-lead in the Florida Coastal Everglades LTER program.
Troxler is Director and Associate Director for Science of the Sea Level Solutions Center. The Center's work is to advance knowledge, decision making and actions toward mitigating the causes and adapting to the effects of sea level rise.
She is also currently leading a collaborative effort to examine the effects of salinity inundation associated with sea level rise on soil carbon balance in the Everglades coastal wetlands, and is contributing to a collaborative project led by the USGS to scale coastal carbon stocks and fluxes using remote sensing products.
Troxler is the author of over 30 peer-reviewed articles and book chapters. She has also served as a visiting researcher and wetland expert with the Intergovernmental Panel on Climate Change (IPCC) Task Force on National Greenhouse Gas Inventories based in Japan at the Institute for Global Environmental Strategies. She is also a co-editor and a contributing author for two IPCC methodological reports published which supplement current national level greenhouse gas (GHG) estimation, including land-use change in coastal wetlands.
Troxler is a national GHG inventories review expert for the United National Framework Convention on Climate Change. She has also trained government experts around the world to develop and conduct national scale GHG inventories.